BIODIVERSITY PROTECTION PROGRAMME ON PROTECTED PASTURE GAJNA THROUGH BREADING CROATIAN INDIGENOUS BREEDS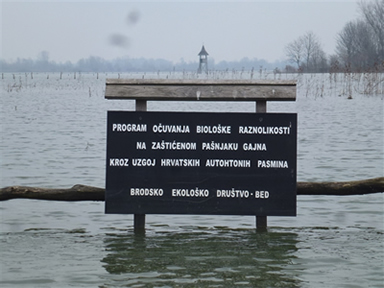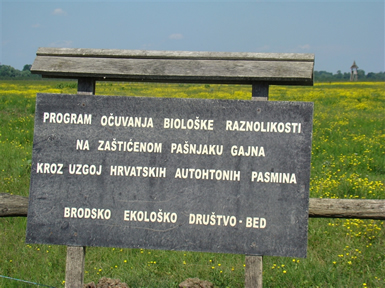 The goal of the BED's ten-year program is to protect, conserve and improve the biodiversity of protected area Gajna in the eastern part of Brod-Posavina County, ( inundation area of the Sava river basin and also an Area of special state concern) Another goal is to stimulate and create the basis for economic activity (e.g. eco-agriculture, tourism) and ensure sustainable development in accordance with ecological principles referring to the rural community in Croatia, with a focus on the villages in the municipality Oprisavci. Few remaining floodplain pastures near Sava River due to reduction of livestock in last 15 years are subdued to sucession with invasive specie Amorpha fruticosa that destroys other flora and fauna. Grazing is a key ecological process in this valuable habitat. In order to prevent these processes there is a need to find ways to keep local population engaging in traditional ways grazing despite the low productivity of such breeding. With its own example as a breeder and complete network of support from 2007 BED shares their fate and tries to fight within the laws and the subsidy system to ensure the sustainability of this way.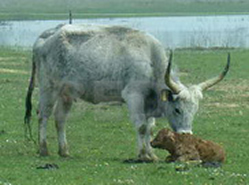 In late 2008. BED successfully completed the project "Protection, conservation and enhancement of biodiversity and the development of environmental awareness through the cultivation of Croatian indigenous breeds and encouragement of organic farming." The project was funded by the EU through the CARDS 2004 and lasted 18 months. The project was focused on the protected landscape Gajna in the Eastern part of Brod-Posavina in the floodplain of the river basin.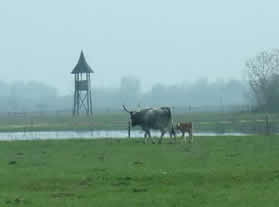 The project encouraged and provided the conditions for economic activity and ensured sustainable development in accordance with ecological principles in Croatian rural areas with main focus on the villages in the municipality Oprisavci. A further objective of the project was to be active and to activate other mechanisms / groups that would help create and maintain the conditions of the traditional ways of grazing, urgently needed to preserve the dwindling native species and landscapes. The basic idea was to bring together profitable organic farming Podolian cattle Posavina horse and Black Slavonian pigs on pasture Gajna, which would create the conditions for the functioning of eco - cooperative with which to encourage sustainable development in areas of special state concern. Through free grazing to protect native plant species and encourage the production of healthy food, and izmuljivanjem ponds and creating elevation would create the conditions for a controlled eco turizam.Glavna target group is rural, local community, supported by partners, municipalities Oprisavci and the Tourist Board of Slavonski Brod-Posavina county, which accepts the results of the eco-production as one of the conditions for sustainable development and to raise environmental awareness and create the conditions for eco-tourism through supporting projects (tracing biking and riding trails through the protected area of the county).
RESULTS OF THE ACTION:

1. Operational eco-cooperative with sustainable program of ecological food production
2. Preservation of endangered and indigenous species, (herd of 20 Slavonian Podolian cows, 2 Black Slavonian hog, and 2 Posavina horses
3. Protection of biodiversity of protected area Gajna
4. Monitored accessibility of infrastructure within protected area
5.100 km of mapped and marked bicycle and horse back riding route through protected areas in Brod Posavina County
6. Ensuring the continuous presence of professional guardian on Gajna grassland
7. Continuous monitoring and evaluation of biological diversity
8.Increased ecological awareness in community through promotional/educational activities (lectures in schools, organized visits, web page www.bed.hr, promotional material etc)